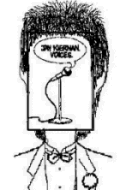 Voiceover Artist. Voiceover Talent. Voice Talent. Voice Actor. Narrator. Announcer. Whatever you call it, it all comes down to this... I say stuff. That's what I do. Voice overs.

When you put your words in my mouth, you'll hear them come alive. As a voiceover artist (or is it voice-over artist?), I can sound authoritative, friendly, funny, warm, enthusiastic or cool & detached. Hard sell or soft. Depending on your needs, I'm a professional voiceover artist, voiceover talent, narrator, announcer, voice talent or voice actor creating any number of character voices. I'm the distinguished corporate spokesperson one minute, while in the next I might be a talking bug. Or I can be the guy next door.

I've been voiceover talent on thousands of radio & TV commercials and corporate videos (industrials). I've done looping for feature films and TV shows. I'm voiceover talent for documentaries, interactive media, and audio books. This voiceover artist does voiceovers for station imaging & station promos, movie trailers, and message on hold. And what voiceover artist wouldn't enjoy doing cartoon voices (or animation voices)? I love doing character voices! My voice has been featured in theme park attractions at Universal Studios Orlando and Six Flags.

I've said stuff for many satisfied clients... like these:

I have my own Pro Tools digital recording studio. Free ISDN sessions are available (with no ISDN charges from my end of the connection). Fax or e-mail your copy, and I'll be happy to audition. I'll send an mp3 file via e-mail, or ship a CD overnight. Please download my mp3 voiceover demos, and give me a listen right now. Or ask me to send a voice over demo on compact disc. I believe you'll find that I'm an extremely versatile voiceover artist. I do hope you'll consider me when you need voiceover talent for your next session. You can call me a Voiceover Artist, Voiceover Talent, Voice Talent, Voice Actor, Narrator, Announcer or any of the other titles associated with what I do. Just call me now. I'd love to say stuff for you!
[ HOME ] [ VOICEOVER DEMOS] [ VOICEOVER CLIENTS ]
[ LINKS ] [ CONTACT]